Here we provide capsule viewpoints on independent jazz recordings. These are not "reviews" per se, in the traditional sense of music magazine recordings' reviews. The mere fact that these recordings appear here mean they are in some way meritorious in terms of their music (why waste space with negativity).
As opposed to standard music magazine record reviews, we're concerned here also with rating how they stack up in terms of such marketplace essentials as consumer accessibility – i.e. whether proper contact information is provided – packaging considerations and such important and often overlooked aspects as whether the packaging provides adequate information about the given recording and the artists to meet the needs of consumers, writers, and radio. Consider this section part of our ongoing technical assistance efforts for artists.
This review section focuses on recommended-to-highly recommended recordings from the vast universe of independent jazz and related recordings, including CDs and DVDs. T he so-called "majors" have almost completely abdicated their responsibility to release new jazz recordings. Digital technology enables and even encourages myriad small boutique labels and do-it-yourself (DIY) artists to take up the slack. And with the retail record marketplace undergoing vast changes in response to new technology, DIY artists are discovering their best, most direct sales are on the gig. Eager fans queuing up post-performance — cash at the ready — anxious to take home that evening's featured artist's latest release, is a common sight nowadays, and one that is increasingly lucrative for the recording artist.
Regarding these technical assistance matters, consider this frequent conundrum: As often happens at WPW (89.3 FM Washington, DC; www.wpfw.org) when our listeners want information on what they just heard (usually of the "what's that, and where can I get it?" variety) they simply call the studio line. All too often, after searching and searching the disk and the CD booklet programmers are flummoxed – no phone number, address, web site, email address, not even a suitable label name that one could investigate on the web are readily discernible. And given the nature of jazz radio these days, a significant number of programmers spin their own libraries on air. Some – yours truly included – choose not to tote around loads of plastic jewel cases and instead use those convenient CD booklet holders, carrying only the disk and booklet to the studio.
It is now essential that all pertinent CD information be listed not only on the back panel of the jewel case but either within the CD booklet or imprinted on the disk itself. Why are so many artists failing to list a simple label name for their independent, self-produced recordings? Part of the idea here folks is building your catalogue. Anyone in the record business will tell you that catalogue development is the key to building a label, even if it's just for your own recordings. If you don't go under a record company name – even if it's simply your given name – how are you going to build a catalogue? T hese and other vital elements will be graded as part of our review criteria, under the heading Info factor. Sometimes the info – or lack thereof – may be a drawback, but we don't waste time here with jive records in terms of musical quality. Just so you know, these disks all have certain musical charms.
June April
What Am I?
Highlife Music
Th

is an interesting title for a young woman who has a clear sense of herself. June April has a voice that's more than a little in tune with the Creator, as well as hip hop accents and beats, neo-soul sensibilities, all informed by jazz. Ms. April endows her controlled enthusiasms with a clear, sure voice and engages very complimentary backing musicians. She's comfortable scatting but not over-wrought with it. She knows the spirituals, as is clearly displayed by an all-too-brief "Somebody's Knockin' at Your Door," and she delivers a tender "Come Sunday" with stripped-down acoustic guitar accompaniment. Above all there's a palpable sincerity in her artistry.
Info factor: The CD booklet contains copious acknowledgements (June is one grateful woman!); lacks track listings (back jewel case only) but does contain some of her lyrics; does list personnel & songwriting credits. Web, email and (free) download contacts are listed: www.juneapril.com; info@juneapril.com
Info Grade: B
Trombonilla
Terminal Clarity
NJCO 1001
Trombonilla is the clever band name for the brawny trombone of Luis Bonilla. This date was captured in performance at The Jazz Gallery, a fearless lower West Side of Manhattan space that has welcomed more than a few adventurers like Bonilla onto its stages. Curiously, though captured in performance this disc doesn't have a live gig feel in its sonic landscape. Saxophonist Donny McCaslin's "Up Easy" reminds one of George Russell. If you know his history perhaps you expect Luis Bonilla to deliver in an Afro-Cuban context, and he does, but in more covert ways, as on his clever ostinato "Mambostinato". This is decidedly a composer's date; "Terminal Clarity", by the other saxophonist on the date Peter Branin, is a successful tone poem and "That's How They Get You", a band construct, is a sleek montuno.
Info factor: Digi-pack (no booklet); Bonilla's web and email contact info on the back: www.trombonilla.com; luis@trombonilla.com; track & credits info clearly listed on inside cover; no bio info or program notes.
Info Grade: B
———–
Craig McIver
A Horse of a Different Rhythm
Dreambox Media DMJ-1097
Without knowing McIver, from the opening son-of-Max Roach drum essay you know this is a drummer's date. McIver, who is a well-rounded percussionist, follows that opener with the aptly-titled "Run", which is full of requisite fire and drive like a victorious 400 meter dash. Is that Odean Pope on tenor sax? (There's no tenor credited on the track listing.) This is a combustible, drum-proud date. McIver crisply addresses his kit and augments with marimba, tympani, and overdubbed electronics in a tasteful way; his music has an orchestrated quality and this is overall a very spirited release. Craig McIver certainly knows his way around the traps.
Info factor: Again, as with the two previous artists, since Craig McIver is likely a name needing introduction (unless you live in Philly), why no notes or bio info? Tracks are listed on inner one-sheet (including full track-by-track personnel listings and composer credits), on the disc, and on back jewel case. The artist's direct telephone and email contacts on one-sheet: mciver2246@juno.com; label web contact bold as life: www.dreamboxmedia.com on the spine.
Info Grade: B+
———–
Roberta Piket Trio
Love and Beauty
Thirteenth Note Records TN002
Roberta Piket is a pianist who's always had a sort of edgy sensibility. But the best sense of this date is of a trio in successful evolution. With bassist Ratzo Harris and drummer Billy Mintz (who contributes three originals) Ms. Piket is forging a cohesive trio sound. Her "I'm My Everything" is a clever re-ordering of "You're My Everything", while "For Uncle Harvey" is cloaked in poignancy. Any questions about her ability to swing are neatly addressed on the Mintz original "Flight", and she delivers a pleasant vocal on the drummer's "Destiny". The Roberta Piket Trio dispenses with this business in a decidedly engaging way.
Info factor: A digi-pack with a difference: actual (and informative) liner notes! Tracks listed on disc and back cover (incl. times); ditto personnel on back. Accentuating the relative coop nature of this trio each member's web site is listed: www.robertapiket.com; www.billymintz.com; www.ratzoharris.com. Info grade: A
———
Libby Richman
On The Balcony
(no label or matrix number)
Since she's black-dressed and posed amidst a leafy backdrop I suppose it's apropos that the legend "Alto Sax" is bolded on the cover. Curiously track 2, her own "Number 17", might have made a better opening track with its crisp saxophone lines and loose-limbed Latin feel. Perhaps the most successful pieces on this disc are her duets with acoustic guitarist Tom Landeman, ala the properly tender "A Song for Mimi" and the medium tempo Alec Wilder chestnut "Moon and Sand". Richman and Landeman have clearly worked together for more than a minute; they're quite comfortable and supportive of each other, including their "Time After Time" essay.
Info factor: Where's the label name and numbering info? The booklet has a couple of paragraphs of date descriptives from Ms. Richman and a complimentary quote from Onaje Allan Gumbs, but not much is revealed as to just who Libby Richman is. Tracks and times are listed on booklet (incl. credits), disc and back cover (incl. personnel).
Info Grade: B-
——-
Reuben Rogers
The Things I Am
Renwick Entertainment RE-01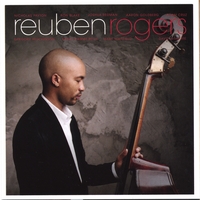 This Mr. Rogers is one of our brightest young bassists, and I've never seen him in a sweater. He also shows himself to be a promising writer as well, opening with an effective bass solo alongside what sound like throat singers, though not credited, a piece about the evolution of mankind. The St. Thomas native injects some home with Adam Cruz on steel drums on "Phillip". "The Things I Am" is likewise a sort of island autobiography and the ever-ready fellow islander Ron Blake delivers throughout on saxophones and flute, part of a stellar cast that includes Joshua Redman for two tracks, the robust drumming of Gregory Hutchinson, and piano mate Aaron Goldberg.
Info factor: Foldout booklet lists tracks, times, composer credits and Rogers ' intent; personnel clearly listed on booklet and back jewel case, where tracks, times and credits also reside. Booklet lacks bio but this artist and his personnel require much less introduction than the others we've reviewed. Contact on back: www.reubenrogers.com.
Info Grade: A
——–
Saltman Knowles Quintet
It About The Melody
Blue Canoe Records BC1032
This is the third release from the bass/piano pairing of Mark Saltman and William Knowles. The pianist is a Stanley Cowell protegé incidentally. This date is a departure, pretty much given over to vocalist Lori Williams, which doesn't do a lot for their band identity. Ms. Williams has a pleasant enough voice, but she would be wise to vary the syllabic content of her scat forays, which are somewhat repetitious. And in the case of a emerging singer like Ms. Williams, this date cries for at least one standard tune for less adventurous ears to hang their hats on. A couple of instrumentalists would have also better served the ongoing Saltman Knowles Quintet ID development.
Info factor: Let's say you're hearing the Saltman-Knowles Quintet and Lori Williams for the first time. Don't look for many identity clues in the booklet; though you will learn about "Things we like" and "Things we dislike: music without melodies." Given the original nature of the 10 pieces here, it's helpful that the lyrics are listed under each track. Tracks and personnel on rear jewel case. Artist contact is: www.saltmanknowles.com, inside booklet and on rear cover.
Info Grade: B
———-
The Greg Thompkins Quintet
Boo Boo's Birthday
Roland Park Jazz 001
This big man with a horn (saxophone) from Baltimore is a regular member of the rambunctious pianist Lafayette Gilchrist's unit, and Gilchrist returns the favor on the date. The enterprising Thompkins has also released an accompanying DVD with this disc of Monkery. Subtitled "A Celebration of Thelonious Monk" – which seems entirely apropos since Gilchrist is a Monk progeny – is a package of nine of Thelonious' nuggets. Included are several that don't always turn up on the ubiquitous Monk tributes: "Boo Boo's Birthday", "Eronel" and "Let's Cool One". "Misterioso" explores the leader's simpatico with Gilchrist in duet, and "Eronel" is a potent interpretation. "Jackie-ing" brings the fire but not quite the synergy of the earlier duet on "Misterioso".
Info factor: Finally an emerging artist provides at least a capsule bio of himself – as well as thumbnails on his cohorts! Tracks and times listed in the booklet and on back cover of this colorfully artful package replete with cover line drawing. Contact info in booklet, on disc, and on rear jewel case: www.baltimoresax.com.
Info grade: A
————-
Teresa Vinson
Next To You
Amplified Records AMP 102
This young vocalist is to be applauded for daring to take the hang fly route here with a stripped down vocal-guitar duo date. Ms. Vinson does not have operatic pipes or extraordinary range, but she has good pitch and depth of feeling that are quite sturdy. Guitarist Tom Dempsey is a properly sensitive accompanist who lays down an attractive carpet for Teraesa and they breathe well together. They inject new life into a compact, zesty rendition of "I Remember You" then neatly switch gears for Stevie Wonder's contemporary gem "Ribbon in the Sky". Elsewhere there's a tender evocation of the lovely McCoy Tyner/Sammy Cahn piece "You Taught My Heart to Sing".
Info factor: No real bio of either artist but Vinson pens an informative story of how she and Dempsey came together as well as her artistic intent with this date, and a nice graphic highlight of Dempsey's contribution to an otherwise mainly-standards pallet. Tracks and credits artfully listed inside the fold-out booklet. Tracks and times on rear jewel case.
Info Grade: A
————————————–
Interested in seeing your CD in The Independent Ear?
Willard Jenkins
P.O. Box
858
Rockville , MD
…And make sure to label it for The Independent Ear.