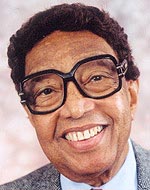 Billy Taylor was in DC as part of his ongoing curatorial efforts and guidance in all things jazz at the Kennedy Center . Thanks to Dr. Taylor's leadership and ideas the Kennedy Center now boasts a jazz program second to none on the performing arts palace scene. In addition to regular series of concert performances at the 500+ seat penthouse Terrace Theatre, the KC hosts one of Dr. Taylor's great passions the annual Mary Lou Williams Women in Jazz Festival. And as a means of providing a performance podium for younger artists and those whose audience is more comfortably accommodated by a club setting, the Kennedy Center accomplished the neat trick of transforming a former multi-purpose room on its upper level catty-corner from the Terrace into the quite-comfortable KC Jazz Club. Our conversation with Dr. Taylor came as the KC commenced their one-time-only Jazz in Our Time program, which honored 3 dozen jazz legends on a gala concert evening, with satellite programming focusing on several of the masters on succeeding evenings.
Willard Jenkins: What was the genesis of the Jazz In Our Time program?
Billy Taylor: It started some time ago. I was asked to do a jazz timeline for educational purposes. I had done something like this for a book I wrote and they said it would be very helpful in working with kids to just put it down. Music changed when we got certain kinds of communications; then it changed again when we got the telephone and television and things like that came into being, and it just changed the way the music was presented and the way it was perceived.
I took that idea and we've been using it for quite awhile now. We got to talking about what we're going to do this year in terms of something special with jazz and they got the idea – as a matter of fact the [ Kennedy Center ] president got the idea, based on the timeline that I had done – to do something special with jazz and celebrate the whole thing with the jazz masters.
What we're trying to do as a whole with the Kennedy Center jazz program is to fight the idea that jazz is dead. People keep coming up with that, saying 'man we've got all these old guys playing jazz and jazz is dead, everybody that's playing jazz is either dead or dying…' Last night I played at Julliard and they gave an award to several of the masters. Here we are, all of us on the stage were over 80 years old and everybody who was playing was like a teenager or in their 20s. What these kids are playing now, and the kind of camaraderie we have… it's very exciting.
What we're trying to do with these programs is to say 'listen to these kids, don't be listening to them because they are kids, listen to them because they've got something to say.' We're trying to present them, but we're also trying to present them within the context of what we're doing; it has nothing to do with age, it just has to do with passing it on. I'd like to see this being done at more schools.
WJ: The whole idea of Masters interacting with students?
BT: Yeah right. Just the fact that we co-exist (masters and students).
WJ: Do you find these opportunities lacking today – opportunities for masters and students to interact?
BT: Yeah, most people don't do that; they present me and the only chance for the kids to talk is if I give a lecture demonstration or something like that in the classroom.
WJ: Does this Jazz in Our Time represent a continuum for you?
BT: Yes, this is basically what we've been doing all the time. I'm very proud of the Kennedy Center . There are a lot of things that we still have to do, but we've covered a lotta ground in these last few years.
WJ: In what respect has the Kennedy Center jazz program been a success?
BT: The [Mary Lou Williams] women's jazz festival has from day one just knocked me out, the response we get and how many people come from other places to join us, and how many people imitate us [curtain remarks at that evening's concert listed Jazz at Lincoln Center as an emulator], which is wonderful. [Editor's note: the 2007 Mary Lou Williams Women in Jazz Festival, held over a Thursday-through-Saturday sequence in May, was completely sold out in advance.]
The [KC-presented] Betty Carter Jazz Ahead program is an oddball program when you stop to think about it; it's about composers, it's about musicians that have something to say and they want to say it as composers. Betty Carter had the idea that every jazz musician is a composer. To really celebrate that and put people together so they can just learn from one another and do things that help not only what they're trying to say but helps everybody… it's better to have a group and have everybody listening to what everybody is trying to say. Sooner or later [of the young musicians who are invited to participate in the Betty Carter Jazz Ahead program] someone's going to say 'man, I never thought about that, let me go in that direction too.' In many cases it is not instead of, it's in addition to. [Young musicians] add something to what they want to say and vice versa – something is added by someone coming in with another [idea] and they say 'well, that's pretty cool, I don't want to do it that way but maybe I can do it this way…'
BT: I feel very good about it. Sure there are things I'd like to do, and do differently and do more of, but man I look around me and I see a lot of people who really aren't coming close to doing the things that we've already achieved. I'm impatient, I'm not going to live forever and I want to get a lot of this stuff done now; but I'm really proud of what we've done so far. We've got the greatest people, the largest group of people all over the world who are coming together to talk about jazz. I'm trying to encourage everybody I know that's out there stepping to keep on stepping [for jazz].