We are thrilled to announce that AFRICAN RHYTHMS, the autobiography of NEA Jazz Master Randy Weston (composed by Randy Weston; arranged by Willard Jenkins; Duke University Press) has just been released in its French incarnation by Presence Africaine.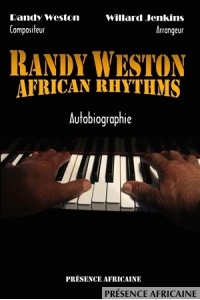 This is the fifth in a series of periodic chapters we'll post from "African Rhythms", the autobiography of Randy Weston (Composed by Randy Weston; Arranged by Willard Jenkins; Duke University Press). As Randy's long time trombonist, the late and vastly underrated Benny Powell used to say "…with Randy we don't play gigs, we have adventures…".
The adventure chronicled in this chapter is taken from Randy's unprecedented residency in beautiful, spiritual Morocco spanning the late 1960s-early '70s. In addition to opening the African Rhythms Club in Tangier, Morocco during his time in North Africa Randy always had eyes to produce a major festival engaging African musics and musics from the African diaspora. After much arduous work and arm-twisting he was able to achieve this monumental task despite numerous obstacles. This chapter details that journey, including his humorous encounter with then heavyweight champion Muhammad Ali. In addition to chronicling that festival development and eventual presentation, this chapter also details what became a very important record for Randy, his classic Blue Moses date for CTI Records.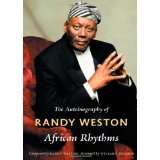 African Rhythms: Chapter 13
Festival blues then divine intervention: Blue Moses
© Willard Jenkins
Aside from establishing the African Rhythms Club, developing a unique Pan-African cultural center was still a burning ambition of mine. C.B. Atkins, the manager who helped us get our Uhuru Afrika recording project released on Roulette Records, in the late 1960s-early 1970s became Muhammad Ali's manager, and I really wanted to meet Ali so I could talk to him about my cultural center idea. He was such a conscious brother and I figured he'd at least be interested and perhaps might even consider contributing towards the project. One time while I was living in Morocco and visiting New York, C.B., who knew I wanted to meet Ali, called to say Muhammad was going to leave for the airport and would be at his hotel on 8th Avenue and I should run over and try to catch him there because he was flying out that day. Unfortunately the timing was bad, I was on my way back to Morocco and didn't have much time to catch Ali.
I wanted to see Ali because at the time I was endlessly thinking about economics and how to finance this cultural center project, so I figured I needed to meet some of the brothers who had serious money to invest in this cultural center I wanted to establish in Morocco. So even though I was pressed for time and had to catch a flight myself, I rushed over to this Manhattan hotel and by the time I got there coincidentally Ali was coming out of the hotel door as I was coming in. C.B. grabbed my hand and introduced me to Ali. But obviously he didn't have any time to talk with me. Ironically as it turned out Ali was going to Casablanca to fight an exhibition match with a boxer from Senegal; this was about 1971. I was thrilled, figuring I might actually have a chance to catch him in Maroc. When Ali came to Casablanca for this exhibition fight, I drove down from Tangier and went straight to his hotel, where I spotted him with his entourage. He saw me and said "come on man, sit down…" I sat down with Ali and his wife but I couldn't get a word in edgewise because everybody was talking at once, there were photographers snapping pictures, Moroccans happy to see the champ, the whole bit. Everybody wanted a piece of this guy.
At that time Muhammad Ali and James Brown were like the biggest African American superstars in Africa, so everywhere Ali went he was treated like a king and mobbed with people. Finally I said "Ali man, listen, I'd like to talk to you, but I know you're busy now." He said "don't worry man; you just come by the hotel later". I waited around and later that night rang his hotel room, he answered the phone and said "come on up." Excellent! I was actually gonna get a one-on-one with this elusive guy. I went upstairs and Ali was in his room in just his pants, with his fantastic physique. Meanwhile his wife was in the other room asleep. We sat down about 11:00 and when 2:00 a.m. rolled around he was still talking! It wasn't as if we were talking, he was doing all the talking; it was fascinating but I couldn't get a word in edgewise, much less talk about my ideas! That brother is highly skilled, he's a master talker who can go on for days. He talked about Elijah Muhammad, about Islam, about this, about that… Finally I said "you've got a fight tomorrow and you'd better get some rest, but I really want to talk to you about this project." He said "alright man, I'm going to be in training camp when I go back, so we'll talk then."
I knew Ali was interested in music because Big Black was there in his camp with his drums, helping him train in Zaire when he was getting ready to fight George Foreman, so Ali was totally into music, just like Sugar Ray, Henry Armstrong, Archie Moore, all the heavy fighters who were into jazz music. Anyway, that night in Casablanca when I got up to leave, I opened the door, he let me out and I rang for the elevator. Ali leaned out the door and said "hey Randy, one thing… the only problem is I like all kind of babes", and that was all he said! I laughed all the way back to Tangier. Later on I tried to get to his training camp since Black was there, but the timing never worked out. That was my Muhammad Ali encounter.
———————————————————————————–
The African Rhythms Club was located about a ten minute walk from the center of Tangier. Just to illustrate what an international city Tangier was, there was a hotel on the corner and right across the street from the club was a bar owned by an ex-lion tamer named Lilly, a German woman. Next to her a few doors down was a bar featuring a woman from Austria who played piano, specializing in Austrian waltzes of course. The Moroccans were very open and interested in checking out everything. Each of these places had its own unique character and everybody would spread the word about each other's places; there really wasn't a feeling of competition between us, even though Tangier was a relatively small city we had a nice camaraderie between our clubs.
We put posters and fliers up around the city announcing the African Rhythms Club, but for the most part we operated largely on word of mouth. Since the city wouldn't allow us to place Wijo's massive telephone poll sculpture outside the club that word of mouth was essential because if you drove down our street it was dominated by the Cinema Mauritania, and you just might miss the African Rhythms Club if you weren't looking closely. We were just a rather inconspicuous black door next to the cinema… though we did have the letters A.R. posted on the door.
One never knows what the spirits might have in store. I remember in 1969 when we opened, the hot news in the region was that some of the Black Panthers, including Eldridge Cleaver, were living in exile in nearby Algeria. We had made plans to visit Algeria because I wanted to go and see Cleaver, but every time I tried to leave Tangier for Algeria something weird would happen. In Morocco all of the cities have their own mythologies; the mythical story of Tangier is that once you get inside of Tangier it's very difficult to leave. Some people who came to Tangier ended up dying there, never returning to their origins; that's the mythology of Tangier.
An example of that mythology was our weird efforts at traveling to Algeria to meet with Cleaver. The first time I tried to make the trip I got on an airplane, the plane took off, and as it was ascending a flock of birds hit the windshield and the pilot was forced to return to the airport! Another time I tried to go to Algeria by car and something strange happened to the car's engine. Then another time I planned an Algeria trip, suddenly my liquor license for the club appeared out of nowhere so I couldn't leave if I had wanted to. It seems the Creator said 'no, you're not going to Algeria, you've gotta stay here and open this club.'
We had our share of successes with the club, coupled with the usual trials and tribulations of running such a place. By late 1970 or so I started plotting to realize what had become another related dream of mine, to present a festival of African and Diaspora music in Morocco. That goes back to my childhood dreams; I would forever be asking myself what can I do to unify my people, that's always been on my mind. My main desire was to establish cultural centers of our music in every country in Africa and bring the best of our minds from America to Africa and teach Africans our knowledge of music in the west and at the same time help to document their traditional music; learn about the music of Ethiopia, Cameroon, Gabon… that was my aspiration.
The whole idea was to get to Africa and establish these cultural centers. I envisioned having access to radio, television, tapes and archival resources, and we would help to document and protect our music because inevitably everything is taken from Africa. In this case we would be contributing to the Motherland. So that was the foundation of my thinking. Part of that aspiration meant having a festival once a year where we could bring African American musicians to Morocco, along with African musicians, and we would have them perform together once a year.
There were a number of people who were eager to help me realize this festival. One was an English woman living in Tangier named Marie Miller; God bless her she was such a fierce fighter. She was a classic Aries and Aries women are very honest, very assertive. She helped pull together important people to support the festival, like the head of Spanish radio. She approached the governor of Tangier and he thought it was a great idea that would bring culture to the city, attract tourism, and put Tangier back on the map. Remember, after Morocco achieved its independence from France somehow Tangier began to dissipate in importance as a Moroccan center. Bottom line in my thinking is that our music is not just about sitting in the club and listening, our music is the force for bringing us together as African people, for healing.
Yin and yang, the festival wound up being culturally successful and a financial disaster; but I'm jumping the gun here. The Moroccan tourism office promised financial support, as did the American government… at the last minute they both abandoned us and withdrew their promises. But I understand why, because from an American perspective it was an African thing; if it had been an integrated plan it would have been a different story. We talked to Iberia Airlines, to the head of Moroccan radio, talked to numerous local people in Tangier… In the end it was a total Tangier effort; we got absolutely no help from anybody else in Morocco.
We went to the ministry of tourism and I said 'hey this is gonna be great for Morocco; give us so and so…' support. The American government approached me, which was logical since we were bringing over a large American delegation of artists, I didn't go to them. The guy who was in charge of the USIS in Rabat ironically was the same decent guy who had previously been in charge of the USIS in Algeria. In 1967 when we made our State Department tour stop in Algeria I'll never forget meeting this same guy Robert Behrens when we landed in Algiers. At that time the Algerians hated Americans and the feeling was mutual.
Embassy people rotate assignments, so by the early 70s this same guy Behrens was now stationed in Rabat, Morocco and when I met with him he offered me money to support the festival, but something went down and we never got the money. It was never fully explained to me because I left the country soon after the festival. You never know what happens with governments, but politically I understood all too well because I don't think they ever really wanted African people to come together in this way. Despite these unfulfilled promises of financial support for the festival idea, we made it happen because we got all sectors of Tangier involved: the Spanish, the Portuguese, the English, the French, the Germans… in terms of people volunteering to help and spreading the word… but not bringing the big money.
———————————————————————————-
Embassy of the
United States of America
Rabat, Morocco
October 4, 1971
TO WHOM IT MAY CONCERN:
I have known Randy Weston some four years personally, and have known of his excellent professional reputation for a much longer time.
Randy is engaged in producing a music festival in his adopted city of Tangier, a project which I find most exciting in its potential.
Speaking for the cultural part of the United States Embassy in Rabat I can say that we heartily endorse this project. We not only endorse it in my words but we are prepared to give it support in other ways (publicity and financial) as well.
The Weston idea of such a festival as he outlined it to us sounds positive and feasible – that is why we are happy to associate ourselves with it.
Robert H. Behrens
Counselor Embassy
For Public Affairs
_________________________________________________________
Royaume Du Maroc
Minister De Information
18 October 1971
To Whom It May Concern:
I first came to know Mr, Randy Weston in connection with my work in broadcasting and television in Morocco. He has an excellent reputation as a musician, and more specifically, as a composer writing modern music based on the rhythms and melodies of traditional Moroccan folk-lore. I have much admiration for his work as a musician, and it has been my pleasure, more recently, to make his acquaintance on a personal level here in Tangier.
Mr. Weston has performed in Rabat and Casablanca for the national radio and television network on a number of occasions since he came to live in Morocco in 1968. Radio Tangier has recently put into service a new transmitter with a capacity of 200 KW, enabling Morocco to broadcast as far as both New York and Cairo, and we are looking forward to collaborating with Mr. Weston on his return from America, in putting out programmes of modern creative music for our increasing audiences.
Radio Tangier is also extremely happy to participate in the proposed "Jazz Festival 1972," to be held in Tangier next June. This project has recently received official sanction from H.E. the governor of the Province of Tangier, and it is hoped that the event will be repeated annually within the overall framework of Tangier's summer festivities.
MINISTER OF INFORMATION
————————————————————————————–
We had gathered a local festival organizing committee in Tangier and I had also arranged for Max Roach and my good friend Mary Jo Johnson to be our U.S.-based liaisons. In order to get things done in Morocco you have to jump through a lot of hoops, go through a lot of red tape, and meet with a lot of people. At long last the festival was finally scheduled for September 1-3, 1972; with three days of nighttime concert performances. The first two nights were in a huge bullring, probably too huge in retrospect, but that was the most suitable venue we could arrange. The third night was also scheduled for the bullring but there was a sand storm coming in from the Sahara, and if you've ever been in a sand storm… so at the last minute we had to open up the Teatro Cervantes for the concert.
This Teatro Cervantes hadn't been used in awhile so at the last minute we had to get a group of people to furiously clean up this place in a short period of time to try and have it ready for the third night's performances, and we succeeded. The sand storm made it impossible to present the third night in the bullring. This wasn't designed as a money-making venture, this was a cultural pursuit. Tickets were priced very cheaply at $2-3 so the people from the 'hood could come.
It was a super human effort pulling this festival together, mainly because such a thing had never happened before in the history of Morocco. We had to deal with Iberia Airlines to arrange flights; some of the people assisting me extended their credit cards to cover our expenses, all kinds of crazy stuff. Then when it came time for the festival unbelievably the plane carrying all of the artists from the U.S. didn't arrive in Tangier until about 6:00 p.m. of the opening night… and the festival was set to begin at 8:00!
On that plane were the groups Mandrill, Pucho & the Latin Soul Brothers, the great singer Odetta, Max Roach's group – sans Max because for some odd reason that still hasn't been explained to me my boyhood friend Max didn't make the flight, despite the fact that he had worked on the U.S. side to organize the whole thing! My dear friend and bassist Ahmed Abdul-Malik came, as did flutist Hubert Laws and a few others. On the African side we had scheduled the Gnawa and some of the other Moroccan spirit music brotherhoods to perform.
Since they arrived so late and so close to the scheduled start time of the first night and there was no such thing as a sound check, much less a rehearsal, we got together and had a big debate about who was going to open the evening. We dropped the weight on Pucho to start first, so he gathered all his cats together and they opened the festival. The whole idea behind the festival was to show the connections between African people, the Diaspora, and the continent itself, with an emphasis on North Africa. So as a sort of invocation for the festivities, lined up onstage we had three Berber flute players on one side of the stage and Hubert Laws playing western flute on the other side. They started playing, and improvising in their respective traditions, and slowly walking towards each other to join in the center of the stage. The purpose was to show the connections between our people.
Pucho & the Latin Soul Brothers performed right after that flute invocation. The tone was set beautifully. Then Max Roach's group sans Max played, including Cecil Bridgewater on trumpet, Billy Harper on tenor sax, and Juney Booth on bass. As I said, Max and Mary Jo Johnson headed up the festival committee in New York. They coordinated all the details on that side, including making sure all the musicians got on the plane on time. Odetta performed, Mandrill, Ahmed Abdul-Malik on the oud performed solo, and we also had two masters, pianist Kenny Drew and saxophonist Dexter Gordon who came in from Paris. Trumpeter Richard Williams, who had been part of my Uhuru Afrika recording orchestra, showed up from out of nowhere; he had been in Spain performing so he came down on his own.
We had about 40 performers altogether. I played with Abdul Aziz, a percussionist from Tangier, and my son Azzedin on percussion. The remaining festival musicians were Jillalah, Gnawa, and other traditional Moroccan musicians. In the true communal spirit there were a number of impromptu performances as musicians got comfortable; Billy Harper even played the drums for a minute subbing for the master with Max's musicians. The combinations would vary from night to night but each of the three nights all of these musicians performed in different sets. And then afterwards everybody would come over to the African Rhythms Club after the concert to jam. This was historic and all of us knew we were involved in something we had never experienced before. The musicians were very happy despite the admittedly somewhat haphazard arrangements; there was a real lack of coordination, a lot of last minute stuff to get in the way, but they all loved Morocco. Their lodging wasn't a problem since they all stayed at the five-star Hotel Continental. The problems were more related to logistics, transportation and stuff like that.
The newspapers absolutely loved the event, they ate it up. The fact that we were bringing all these top musicians to Tangier, just that in itself was very important and they felt much honored. Here's just one example of how crazy this scene was: we had a guy on our local committee who was the head of the tax bureau for Tangier named Ouazzani. He was a beautiful guy who really loved the music. The main venue, the Plaza de Toro bullring, was kind of far outside of town. Once you got there the place had many different entry gates and windows all the way around so we had different people collecting the ticket money at the stations all the way around this huge place. Some of the tax department personnel took it upon themselves — unbeknownst to their boss Ouazzani — to collect ticket buyers' taxes right there on the spot! Ouazzani then had to run all the way around this huge venue to all the ticket areas to tell these guys to stop collecting these taxes! That was just one example of the disorganization; this kind of event had never taken place before, so a lot of this confusion was understandable. But the audiences loved it and they were quite happy. With the United Nations' presence in Tangier there were a number of other Africans and internationals in the audience as well.
The fact that all these musicians made it to Morocco in the first place was incredible! Years later in 2001 when I was strolling through the medina in the seasinde town of Essaouira during the Gnawa Festival, to have so many Moroccan people come up to me and greet me with such warmth says it all about the efforts we made with the African Rhythms Club and the festival; they all remembered those times. If I made a million dollars tomorrow nothing could replace that feeling. It was something so incredible, and you KNOW the Creator was in charge!
How else could you explain how I was able to eventually pay off all of the enormous debt that came with the festival? That was some kinda miracle, it was spiritual intervention. Since the promised sponsorship money largely didn't come as expected we really fell short of the necessary dollars. We were only able to pay some of the musicians, some we didn't pay, and others said they would gladly donate their services. But these are my fellow musicians and I really wanted to pay all of them as we had promised to. I wound up completely strapped for cash after this festival. I had to borrow a plane ticket just to take my kids back to New York! I was forced to close my club; I had no money and all these musicians to pay. I also knew that some of these musicians were disappointed because they came there expecting some kind of African paradise, with no struggle… But the reality was a real struggle! They apparently thought they were coming to Utopia. Despite all that I know I made a contribution to my people and to me that is the highest honor any black man can have.
But back to that divine intervention from the Creator: My dear friend Mary Jo Johnson had worked particularly hard to make this festival possible from the stateside perspective. At that time she was serving in a kind of managerial position for me and besides her festival duties she was trying to arrange was a record date for me. This resulted in the Blue Moses album. She said she went to 15 record companies and nobody wanted to record me. Finally she met with Creed Taylor who had a very successful record company in the 70s called CTI. He recorded people like Freddie Hubbard, Hubert Laws, George Benson, Grover Washington Jr., Stanley Turrentine, Milt Jackson, Bob James and others. He made all his records at Rudy Van Gelder's famous studio using a stable of studio musicians which also included the leaders he was recording.
My idea was to record a program of music focusing on Morocco, and I wrote four pieces for the date: "Ifrane", named for a small town in the mountains near Fes, was about my first trip through the northern part of Morocco. We had arranged to do some concerts at some hotels in Morocco and I had this little automobile. I drove this car through the Atlas Mountains with my son Azzedin and Ed Blackwell. When we passed through this town called Ifran there was actual snow! Ifran is a skiing village and I didn't know they had snow in Morocco! I was so moved that I wrote a piece about it.
"Blue Moses" was simply the translation of Sidi Musa. Musa was Moses for the Gnawa people; for them the color representing Moses is the color of the sea, the blue of the sky. When I attended a Gnawa ceremony in 1969 in Tangier it was my first of several Lilas with the powerful Gnawa elders. As I said earlier I was in a trance for a couple of weeks after this ceremony, it was so powerful, and this one particular melody stayed with me. So instead of Sidi Musa I called it "Blue Moses," based on traditional Gnawa music that I adapted and re-arranged. When I first wrote this piece the Gnawa elders forbad me from playing it in public; but after about a year they finally relented after I pleaded with them that people needed to hear this melody.
"Night in Medina" was about an experience I had when I was living in Rabat, the capitol of Morocco. I stayed at the Hotel Rex, right in front of the old city, the Medina is the old city where the traditional marketplace sells all kinds of Moroccan goods, spices, kaftans and other Moroccan goods. During the day there are hundreds of people on the streets of the Medina, but at night it gets real quiet. One particular night I couldn't sleep and something urged me to go into the Medina, so I went there at 3:00 in the morning! The streets were deserted and it was very mysterious, sorta spooky. I walked around these deserted streets and this melody came to me. Fortunately nothing happened to me but it was a very powerful experience of having frequented the Medina during the day when it's crawling with people, then at night when there's nothing but shadows. I also wrote "Marrakech Blues" in honor of the city of Marrakech, a city that is really magical. The buildings have a wonderful reddish hue. So that rounded out my program for this proposed "Blue Moses" date.
Creed Taylor insisted that the only way he would agree to do the date was if I played it on Fender Rhodes electric piano, which was popular back then. I can't stand the electric piano but I really wanted to make this record. Creed also insisted on using his regular musicians, which was OK with me because they included Ron Carter and Freddie Hubbard, who had played with me on the Uhuru Afrika date; Hubert Laws, who ironically played the festival in Tangier; plus Grover Washington, Jr., Billy Cobham, and the Brazilian percussionist Airto. I brought my regular bass player Bill Wood and Azzedin to make the date on congas as well. We recorded "Blue Moses" in March 1972. Despite my lack of control over some of these important elements, incredibly "Blue Moses" became my biggest hit record!
Besides his regular crew of excellent musicians, Creed Taylor was known for a certain sound on his CTI records and his house arranger was Don Sebesky. We recorded the date using Melba's arrangements of my compositions. I wasn't happy with having to use that electric piano but the recording session came out much to my satisfaction. So following the session I went back to Morocco and got busy with the African Rhythms club and festival planning. "Blue Moses" was released just before the festival and I remember being in the club when one afternoon a dub of the record arrived in the mail. I immediately put it on the turntable and out burst all this added orchestration from Don Sebesky. I couldn't believe it! But the true success of "Blue Moses" happened after the festival.
It was truly Allah's way; He said 'man, we gotta help this brother.' As I said it turned out to be my only hit record, even though I'm playing the electric piano with all this added orchestration over which I had no control. But with the royalties from that record thankfully I was able to pay all the musicians from the festival and I paid the back taxes on the club. Despite the fact that I didn't much care for playing the electric piano on that date, and the questions I had about the added orchestration – the fact that a lot of the control over how that record came out was not my doing – I think it's just another dimension of my music because people tell me they really enjoy that record. If it wasn't for "Blue Moses" I never would have been able to pay all those musicians. It was truly a miracle!
© Willard Jenkins