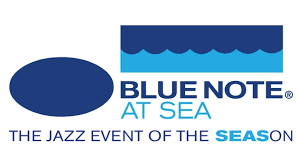 Having previously experienced one lone cruise, and that one a 4-day wedding destination cruise, I had little context for the jazz cruise experience… at least not until the recently sailed Blue Note at Sea. The verdict: there's a whole lot to love about a jazz cruise, and particularly this Blue Note at Sea experience! Sailing for only its second annual voyage, a multi-culti, international audience of jazz revelers set sail from Ft. Lauderdale on Saturday, January 27 for seven days chock full of performances and heavily laden with great measures of the kind of vacation-worthy pampering and amenities aboard the well-stocked, 11-decked Celebrity Summit that only a first class cruise can boast.
To call Blue Note at Sea a floating jazz festival is a bit too cliched, but that's precisely what it felt like, though that analogy should be employed only for snapshot descriptive purposes. After all, where else can one experience a multitude of performances mere steps from one's bedroom, a short stroll from amenities ranging from poolside to spa to inviting deck chairs and chaise lounges, to high class cafeteria-style dining (with several ala carte restaurants available if one chose to go off the grid of the plan one purchased and pick up checks), perhaps even chatting along the way, gazing at this ship's notable visual arts displays, or sharing a meal tableside with an NEA Jazz Master like Dee Dee Bridgewater, Dr. Lonnie Smith, or Chick Corea (who were all onboard for the duration)? And as was overheard throughout the week many times from delighted fellow cruisers – experience all that without once having to crank up the car, hit the streets and subsequently find parking upon arrival!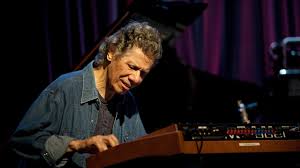 Those aforementioned amenities included housekeeping conveniently dropping off the next day's schedule of events each day on your freshly made bed, along with a different promotional gift (including Blue Note at Sea-emblazoned baseball caps, water bottles and assorted other souvenirs) daily. Not to mention the charming, accommodating ship crew.
Day 1, a great tone-setting night of melody and tune, brought a bit more relaxed agenda than the succeeding 6 days – the music didn't begin until 5:00pm, with some duo piano-bass from the facile pianist Caleb McCampbell (from Marcus Miller's band) and bassist Boris Kozlov in the Grand Foyer opposite what soon became the hippest onboard watering hole, the popular Martini Bar, whose daily happy hour quickly became mandatory!). McCampbell and Kozlov were among the crew of MVP-type onboard artists who were skillfully mixed and matched for sets throughout the week in the various venues and ensemble configurations. Other world-class artists who were similarly employed throughout the week included bassists Ben Williams, Tom Kennedy, and Derrick Hodge, drummers Nate Smith, Alex Bailey, and Kendrick Scott, guitarists Lionel Loueke and Brad Allen Williams (new to these ears, he was a consistent cruise revelation), pianists Geoffrey Keezer, Sullivan Fortner and Aaron Parks, saxophonists Marcus Strickland and Alex Han, and trumpeters Russell Gunn and Ambrose Akinmusire. Throughout the cruise they and others were mixed and matched, sometimes as leaders, most times as sidemen, and always with great contributing presence.


RUSSELL GUNN
At 5:15 vocalist Jose James played one of several sets throughout the cruise in Deck 4's comfortable (plush chairs and ubiquitous bar service) Rendez-Vous Lounge, with his onboard band of Fortner, Ben Williams, Brad Allen Williams, and Nate Smith on drums. The cruise became a floating laboratory for James' development of his new Bill Withers project, which he'll record for Blue Note in September, and which he always graciously thanked the audience for being part of the bloom. James, guitar in tow, crooned and shouted familiars from Withers' rich songbook with great aplomb and expressed his delight at this first opportunity to sing Withers' songs for an audience comprised largely of Boomers and slightly younger middle agers who had lived those songs and had those lyrics down pat. In a phenomenon we witnessed for several performers who made multiple appearances throughout the cruise, as the good grapevine buzz for what James was putting down on Deck 4 circulated throughout the ship, by his final hit on the following Friday evening as we sailed back to Ft. Lauderdale attendance was totally SRO – and you'd best get there early!
The talent was always there with Jose James, but there was a seeming inability to find his proper niche. This Bill Withers project really seems to be in his wheelhouse. He's clearly not merely dabbling with Withers' songbook and has obviously invested a lot of research and woodshedding into approaching this music, which he says was initially motivated by the fact that not enough people fully recognize Withers oeuvre. In one of his introductory monologues during the cruise, James mentioned how stunned he was to find that the most common Google search for Withers was "Is Bill Withers dead!" And besides his efforts at owning Withers' songs, James unleashed some strong improvisatory passages. As a member of the hip hop generation, he is rapidly developing an uncanny sort of turntable scat; at least once per set he would skillfully run scat choruses in the stop/start hiccuping manner of a turntablist's rhythmic alterations of Lp lyric passages.
At 6:30 Dee Dee Bridgewater played one of several cruise iterations of her new "Memphis" soul project. Having first seen this project at Monterey in September, its clear that in the interim Dee Dee has worked out the kinks and become completely comfortable with what for her is a return to her Memphis birthplace and that city's incredible R&B history. She borrows gems ranging from the Staple Singers' civil rights era lament "Why Am I Treated So Bad" to Al Green's book. The next day I conducted one of several packed house artist Q&A sessions with Dee Dee and she provided enthusiastic details on how she's arrived at this painstakingly researched classic R&B project. Throughout the cruise these daily Q&A sessions, conducted also by Sirius XM's Mark Ruffin, Marcus Miller, JazzTimes publisher Lee Mergner, and Blue Note president Don Was, were hugely popular among cruisers, who relished opportunities to pitch questions at the accommodating artists. Later in the week I conducted a Q&A session with B-3 master Dr. Lonnie Smith for another rapt audience.
A relaxing Day 1 dinner later we eased back down a deck to the Rendez-Vous for the first of vocalist Niki Harris' several performances. The daughter of the late pianist Gene Harris, who many Blue Note Records old heads will recall from the unit known as the Three Sounds, the personable Niki, whom we'd met at the cruise hotel in Ft. Lauderdale, is one of the most adroit vocalists on the current scene; this sister can literally sing it all! Accompanied by Fortner, Brad Allen Williams, Kozlov and Nate Smith throughout the cruise, Niki Harris was one of the true revelations for many cruisers, and the grapevine was on fire! You had to get there early for all of her subsequent performances. Notably, for her opening performance Ms. Harris delivered a delicious, decidedly jazz arrangement of the silky Isley Brothers classic "For The Love of You."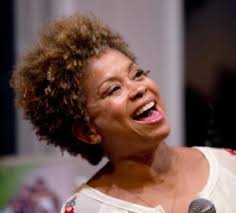 NIKI HARRIS WAS A REVELATION TO MANY CRUISERS
Fifteen minutes after Niki closed at 10:30 was saxophonist and cruise musical director Eric Marienthal's Late Night Jam with Parks, Kennedy, and Scott on Deck 11 in the Blue Note Records Upbeat Lounge. Alas we missed that because the next hit simply had to be bassist Marcus Miller's first of several performances, hosted by his long time compadre David Sanborn, featuring Chick Corea in the ship's main venue, the Celebrity Theater, an accommodating concert-hall like venue with balcony and the only assigned seating of the experience. Miles Davis is the most obvious intersection for Chick and Marcus and they opened with a mini-MD set of "If I Were a Bell," "All Blues," and Marcus' familiar "Tutu". And that was all just Day One!
Here I should add that each evening's Mainstage performance had 6:30-8:00pm seatings, followed by a 9:00-10:30 hit, with passengers guaranteed seating at one or the other and plenty of opportunities to experience both concert sets should one wish for two helpings. Also at 11:00pm the first night was one of the daily film screenings for those with cinematic preferences for films ranging from classics like Cabin in the Sky (screened on Sunday morning) to Bird and Round Midnight.
Blissful hours in the sack later – with the sea rolling hypnotically by just outside our balcony window – breakfast yielded to Day 2 (Sunday)'s Gospel Show at Sea, skillfully captained by trombone master Wycliffe Gordon, featuring a band comprised of Strickland, Keezer, Scott, Kennedy, Brad Allen Williams, and most especially the always delightful Niki Harris, who knows a gospel turn as easefully as she does jazz standards. We really ought to be hearing more Niki Harris! Later that night, recalling the production values of his impressively eclectic former television series "Night Music", David Sanborn played one of several themed, all-star concerts, "Herbie's World: The Music of Herbie Hancock" in the converted Cosmopolitan Dining Room.
Clearly one of the joys of Blue Note at Sea is the opportunity to experience artists in different contexts – as both leaders and sidemen – and the core leaders like Corea, Bridgewater, Dr. Lonnie, Miller, James, Harris, and Sanborn on multiple occasions, providing cruisers with a more nuanced sense of the gifts of these artists. Other delights of the garden included: afternoon poolside sets, including a configuration of Parks, Bailey, Ben Williams, Gunn and alto man Alex Han, who along with Gunn repeatedly distinguished themselves, including as part of Marcus Miller's unit. Speaking of the latter, he and Marcus Strickland both brought their bass clarinets onboard. It was particularly encouraging to see Strickland essaying on bass clarinet on the sets he led throughout the week, as opposed to the more familiar soprano sax which he left at home this trip.
The R&B feel was expertly represented on Blue Note at Sea. Besides three performances of Dee Dee's "Memphis" project, there was Niki Harris' jazz book leavened with soul, Wycliffe Gordon's rootsy Sunday morning gospel show, Jose James demonstrating the ease of fitting Bill Withers' songbook into jazz-infused atmospheres and Maceo Parker's closing night performances. Recognizing where he was cruising, Maceo skillfully employed jazz standards as connective tissue (e.g. "The Nearness of You") between the funk (including his nightly Ray Charles tribute, where he brought out Sanborn for some alto shine), removing any doubts as to his own horn bonafides. Of a lesser note were the somewhat disjointed, largely neo-soul concert performances of vocalist Lalah Hathaway, whose holy ghost-invested vocal depth charmed with a set of her father Donnie's unforgettable songs, but otherwise her show failed to catch fire. Dr. Lonnie Smith brought a grooving sense of improvisatory voodoo soul to the cruise, delivering his mastery in a decidedly modern manner but one that inevitably harkened back to a time when the B-3 organ ruled in black communities across the country. During our Q&A his story of how "Move Your Hand" became an early calling card was priceless.
NEA Jazz Master Charles Lloyd, who dropped onto the boat at the Ocho Rios, Jamaica docking (informing cruisers this was his first cruise experience), stayed long enough to deliver two kinetic performances of his Charles Lloyd & the Marvels music, made all the more distinctive by Bill Frisell's uncanny guitar and pedal steel master Greg Leisz. Eric Harland on drums and Reuben Rogers on bass rounded out the Marvels. Rogers, playing bass guitar throughout, was particularly animated in his delightful guitar interactions with Frisell.
Likewise boarding at Ocho Rios and remaining for the duration – and seeming to be in big fun mode every time we spotted him onboard at someone else's set or on shore excursions thereafter – was Robert Glasper, who made two performances in trio with his familiars Damion Reid on drums and Vicente Archer on bass, and two performances as part of a Blue Note All-Stars lineup with Akinmusire, Strickland, Loueke, Scott, and bassist Derrick Hodge; one performance notably opening with Ornette Coleman's "The Turnaround," made all the more distinctive by the sound scientist Lionel Loueke's uncanny sonic universe.
Illustrating two of Blue Note at Sea's growing marks of distinction – its engagement of more next & now-gen artists than the traditional jazz cruises, and its encouragement of their performing their original music – was trumpet ace Ambrose Akinmusire's closing set. Working in quartet with Sullivan Fortner, Ben Williams, and Kendrick Scott, Akinmusire delivered a beautiful hour of his growing book of originals with one of the most gorgeously developed trumpet sounds to have arrived this millennium. And what a splendid way that was to close out a gas of a week onboard Blue Note at Sea!